Chef Angelo Bersani is the Owner and Executive Chef. The Chef brings over thirty years of luxury hospitality and entertainment leadership experience to your table. Specializing in the best global fusion cuisines, the Chef's passion for service and elegance is second to none. Chef Angelo is a graduate of the Florida Culinary Institute where he worked for a well-known hotel property in Palm Beach. The Chef established Chef Angelo's Private Dining Service in 2003 and has been serving businesses, private families, celebrities and travelers from around the world ever since. Chef Angelo is a member of the American Personal and Private Chef Association.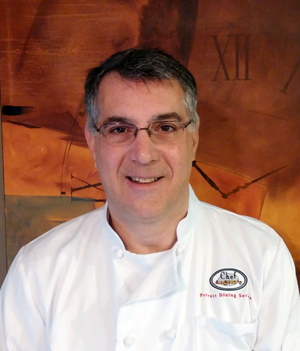 Testimonials
"Chef Angelo was awesome! He took care of everything, was friendly yet professional, food was great and portions were huge (we had plenty of tasty leftovers) and everyone had a thoroughly relaxing and enjoyable time. Everything went off without a hitch and I would definitely hire Chef Angelo again, as well as use your booking services, and would not hesitate to recommend as well."
Top Villas
"….. Chef Angelo. We cannot praise him highly enough.  During our stay, he and his team became part of the family. We enjoyed working with him enormously and would recommend him extremely highly to anyone.
All the food he cooked for us was fantastic, particularly the last night extravaganza which was an absolute gastronomic treat.  All the dinners and our party went off without a hitch, largely due to Angelo and his team.  Everything happened as it should with no fuss or drama and our guests, a very international audience of senior IP lawyers who are all very well-traveled, were unanimous in their unstinting praise of the food and the service.
Beyond that, Angelo and the team went out of their way to help us with everything from tidying up the empties to organizing taxis. This went well beyond their brief and we much appreciated all the help they gave us."
Rusty Marie Belanger
"Chef Angelo is the absolute best in the business. He is thorough, efficient, organized, prepared, and has a complete understanding of customer needs and meets those requirements without difficulty. He also happens to be one great chef, a fabulous cook, knows which wines to recommend to compliment the meals he prepares, he is pleasant, possesses a wonderful sense of humor, always presents himself with his staff in a totally professional manner, neat, clean and spiffy, and has never let us down during the numerous occasions upon which we have hired his culinary services. He also is cognizant of specialized cooking for those with medical conditions that prohibit certain ingredients or foods. We highly recommend Chef Angelo to anyone or any business considering the services of a personal chef."